CR REVELATION
THE WORLD'S HIGHEST-CAPACITY COMBINE
Features
RECORD-BREAKING PERFORMANCE
New Holland CR combines hold the world record for capacity in both wheat and soybeans.
SAVES ON FUEL AND LABOR COMPARED TO COMPETITION
When compared to competitive combines in Independent tests, CR combines use less fuel, lose less grain and harvest more quickly and efficiently to increase your profitability.
BEST-IN-CLASS GRAIN AND STRAW QUALITY
The multi-pass action of the Twin Rotor® design releases grain quickly and gently for low grain damage and loss. Gentle, in-line crop flow creates straw that's perfect for baling.
ULTIMATE EASE
The Harvest Suite™ Ultra cab provides a panoramic view, more space and comfort, allowing you to stay refreshed and work with precision.
THE WORLD'S HIGHEST CAPACITY COMBINE
CR Revelation combines break records in capacity and performance and provide you with a higher return on investment. They help you achieve higher efficiency and productivity using innovations like the award-winning IntelliSense™ combine automation system, Dynamic Flow Control™ remotely adjustable rotor vanes, deep cut Dynamic Feed Roll™ technology and patented Opti-Spread™ Plus super-wide residue spreading.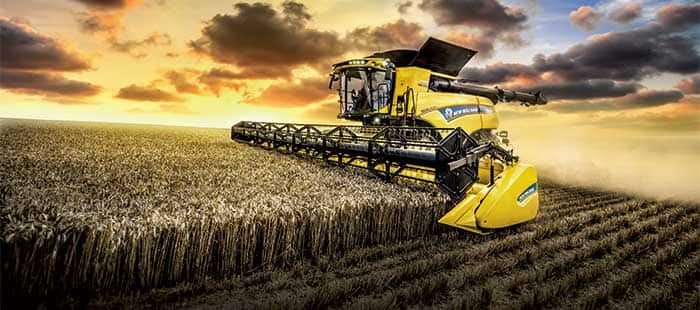 FACT: STILL THE UNDISPUTED WORLD RECORD HOLDER, AND IMPROVING ALL THE TIME
The top-of-the-line CR10.90 Revelation is the most powerful and productive CR combine to date, with up to 700 horsepower on tap and leading-edge systems that place it as the most advanced in the world. On August 15, 2014, the New Holland CR10.90 harvested 29,308 bushels of wheat in less than eight hours, obliterating the previous harvesting record. The CR10.90 achieved peak capacity of 4,960 bushels/hour in real world conditions, a truly unbelievable feat.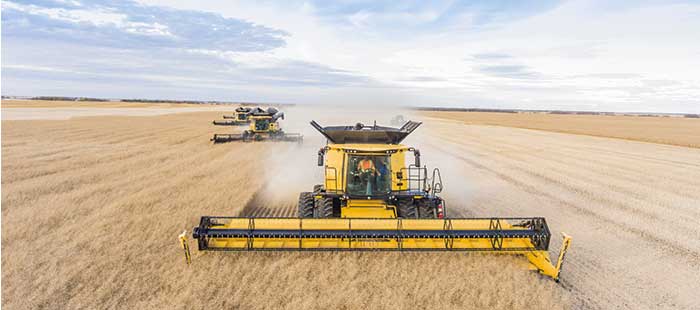 FACT: RECORD-BREAKING PERFORMANCE IN SOYBEANS
In April 2017, in the State of Bahia, Brazil, the 571-horsepower CR8.90 combine manufactured in Sorocaba, Brazil established the world record for highest capacity in soybeans, harvesting 16,157 bushels in eight hours. The New Holland combine averaged 2,020 bushels of soybeans per hour with a moisture level of 17% and achieved this using only 0.98 gallons of fuel per acre and losses of less than 0.5%.
FACT: SAVES ON FUEL AND LABOR TO INCREASE YOUR PROFITABILITY
Independent third-party testing* shows New Holland CR combines have performance that pays.
THE BOTTOM LINE: $23,000 IN TOTAL SAVINGS OR $4.60 PER ACRE
Based on a 5,000-acre farm (2,500 wheat, 2,500 canola), the savings achieved by operating a New Holland combine translates into:
•
$1,900 fuel savings – 425 gallons
•
$4,500 in operating and labor costs – faster harvesting by nearly 2 days
•
$16,600 more grain in the bin – cash in pocket due to lower combine losses
6% LESS TOTAL FLUID CONSUMPTION
Save 425 gallons or $1,900 in fuel
New Holland CR combines operate for efficiency, saving you tank-loads of fuel.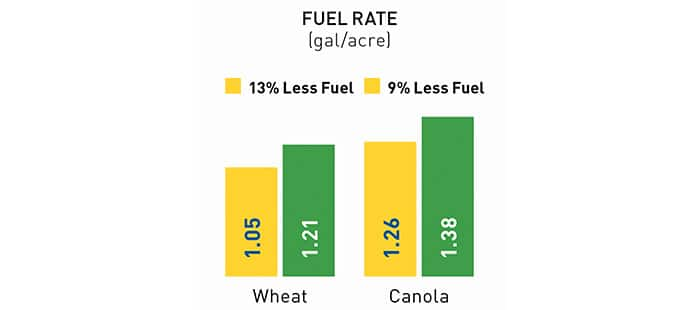 MORE HARVESTING PRODUCTIVITY
4% more in wheat and 10% more in canola
Save $4,500 in operating and labor costs
New Holland CR combines harvest faster — saving up to 20 hours, or two days of harvest time each season for a 5,000-acre farm. This saves real money on depreciation, maintenance, labor and fuel costs. You will save $200 per engine hour and $25 per labor hour. The sooner you finish your season, the safer your grain will be in the storage bin, protected from weather risks.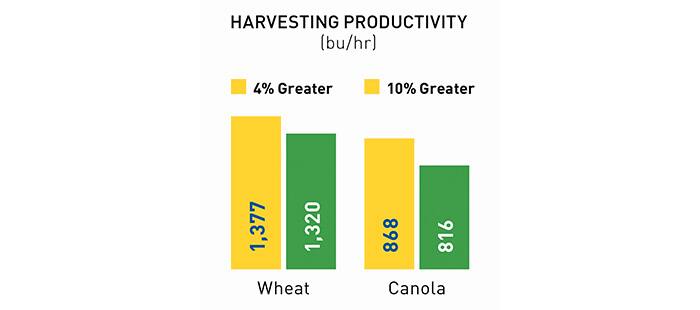 LESS GRAIN LOSS
30% lower in wheat and 45% lower in canola
Put an extra $16,600 of premium grain in the bin
Twin Rotor® technology produces a higher-quality grain sample with less grain loss — 30% lower in wheat and 45% lower in canola, for more cash in your pocket. Imagine the extra volume of grain you will harvest — grain that previously was lost to the ground.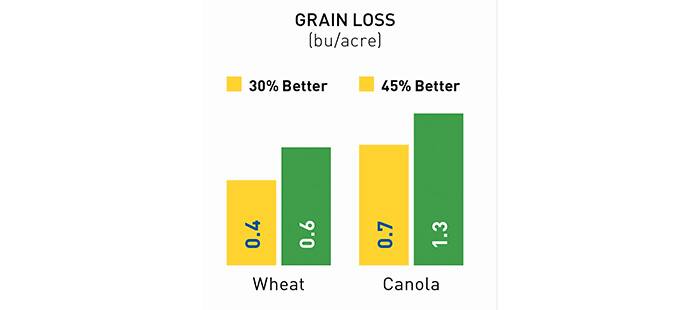 INTELLISENSE™: THE SIXTH SENSE IN HARVESTING
Every 20 seconds, the new IntelliSense™ combine automation system selects the best action out of 280 million possibilities. As conditions change, the system reacts quickly and smoothly to maximize throughput and minimize grain damage and losses.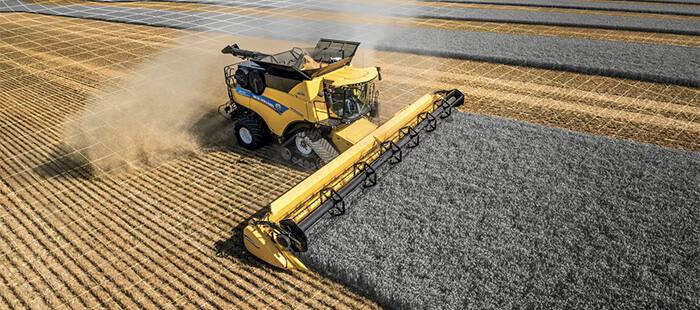 ON-THE-GO ROTOR VANE ADJUSTMENT
Adjustable Dynamic Flow Control™ rotor vanes mean you can change their position on the go in response to changing crop conditions for up to a 20% increase in productivity and fuel savings with adjustable rotor vanes. The deep-cut Dynamic Feed Roll™ (standard on the CR10.90 and optional on all other models), with integrated dynamic stone protection, regulates crop flow into the machine to facilitate smoother threshing and increased capacity.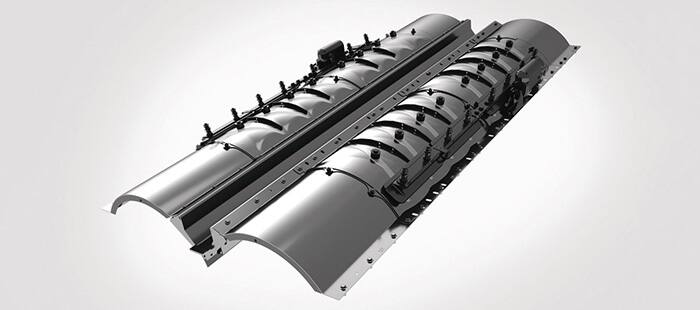 DID YOU KNOW?
1 IN EVERY 4 COMBINES IS A NEW HOLLAND
More and more producers are discovering the incredible efficiency and capacity of New Holland combines. Now, New Holland sells one of every four combines globally – underlining the confidence operators like you place on the performance and reliability of New Holland combines.
*Calculations are based on independent third-party combine productivity comparison tests on a New Holland CR9.90 Elevation and competitive combines. Tests were conducted in wheat and canola near Humboldt, Saskatchewan, Canada in September 2015. Commodity prices: canola at $9.1/bu and wheat at $6/bu. Fuel use measurements were conducted when operating at the productivity targets. Based on fuel price of $4.47/gal. Estimated combine operating cost per hour: $200. Combine productivity is a measure of the typical sustained grain harvesting capacity when operated at an acceptable grain loss or other limiting factor, whether it is engine power, feeding, or any other factor.
Models
| | |
| --- | --- |
| | CR6.90 |
| Grain tank, extensions/covers, bushels | 315/326 |
| Rated engine power @ 2100rpm, hp | 360 |
| Maximum engine power @ 2000rpm, hp | 401 |
| | |
| --- | --- |
| | CR7.90 |
| Grain tank, extensions/covers, bushels | 315/350/326 |
| Rated engine power @ 2100rpm, hp | 408 |
| Maximum engine power @ 2000rpm, hp | 449 |
| | |
| --- | --- |
| | CR8.90 Opti-Clean |
| Grain tank, extensions/covers, bushels | 410 |
| Rated engine power @ 2100rpm, hp | 469 |
| Maximum engine power @ 2000rpm, hp | 544 |
| | |
| --- | --- |
| | CR9.90 Opti-Clean |
| Grain tank, extensions/covers, bushels | 410 |
| Rated engine power @ 2100rpm, hp | 544 |
| Maximum engine power @ 2000rpm, hp | 600 |
| | |
| --- | --- |
| | CR10.90 Opti-Clean |
| Grain tank, extensions/covers, bushels | 410 |
| Rated engine power @ 2100rpm, hp | 639 |
| Maximum engine power @ 2000rpm, hp | 700 |