DURADISC™ HEAVY-DUTY DISC MOWERS
DEPENDABLE, CLEAN CUTTING WITH TIME-SAVING CONVENIENCE
Features
DURABILITY IS STANDARD
DuraDisc™ heavy-duty disc mowers from New Holland combine fast cutting with trouble-free operation and easy servicing to assure you of the dependable performance you need season after season.
QUICKMAX™ KNIFE CHANGE SYSTEM KEEPS YOU SHARP
The QuickMax™ knife change system makes it quick and easy to keep knives sharp for the best cut quality.
MOWMAX™ DISC CUTTERBAR 3-YEAR FACTORY WARRANTY
New Holland's MowMax™ disc cutterbar breezes through tough mowing conditions and is backed by three full years of factory warranty so you can cut close with confidence.
CONVENIENTLY MOVE FROM ONE TASK TO THE NEXT
Quick-hitch compatibility on mounted models makes hooking and unhooking the mower from the tractor simple so you can move from mowing to tedding or raking seamlessly.
DEPENDABLE, CLEAN CUTTING WITH TIME-SAVING CONVENIENCE
Forage quality directly influences livestock weight gain and milk production. Maximize the return of your hay field with improved forage quality and tonnage by choosing the clean, uniform cut that begins at the MowMax™ cutterbar of New Holland DuraDisc™ heavy-duty disc mowers. By cutting closely and cleanly, DuraDisc mowers leave less crop behind to increase tonnage with every cutting to boost weight gain, milk production, and ultimately the profitability and success of your operation.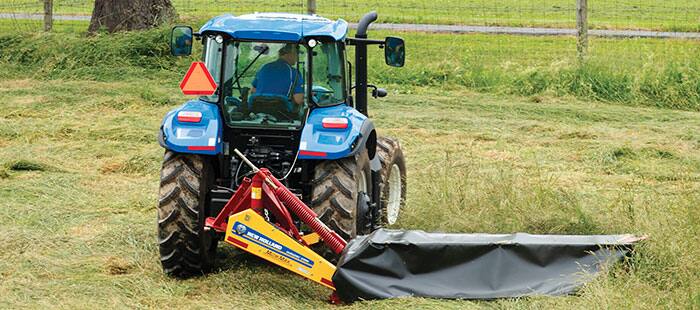 FOUR MODELS
DuraDisc mowers breeze through the toughest conditions to give you a clean, even cut, pass after pass. Choose the side-pull model with a 10'4" cut or from three mounted models with cutting widths from 6'8" to 9'2".
DEPENDABILITY AND CONFIDENCE – MOWMAX™ CUTTERBAR ADVANTAGESDisc mowers are the first machines to hit the hay fields. Dependable and confident operation comes standard on DuraDisc™ mowers. The MowMax™ cutterbar is backed by the 3-year factory MowMax™ cutterbar warranty for your peace of mind. Each MowMax disc module is an individually sealed gear case with a dedicated oil reservoir so gears always stay lubricated, even when working on hillsides. Each module features a ShockPRO™ hub that absorbs harmful impacts and protects the cutterbar drive if the mower hits an obstruction.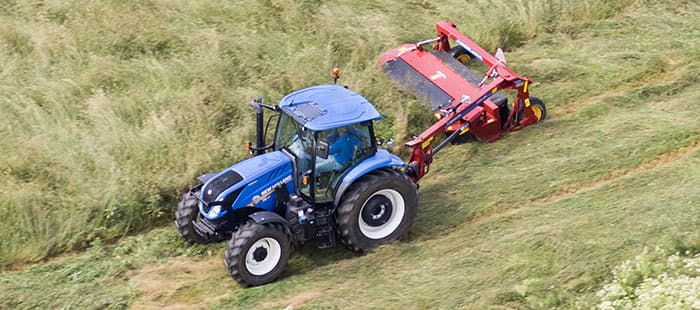 ADAPTS TO ROUGH FIELD CONDITIONS
A large-diameter flotation spring on DuraDisc Series mounted mowers allows the cutterbar to ride smoothly across the field. In addition, a spring-loaded breakaway latch allows the cutterbar to swing back if it hits an immovable object in the field.