WORKMASTER™ UTILITY 50 – 70 SERIES
RUGGED, RELIABLE AND INCREDIBLY AFFORDABLE
Features
TOUGH AND RELIABLE
Rugged construction and simple drivelines help make WORKMASTER tractors the dependable, economical choice.
CLEAN AND FUEL-EFFICIENT
Turbocharged, direct injected, common rail engines save fuel and meet strict Tier 4B Final emissions requirements with a system that's completely automatic.
2WD OR 4WD
For added grip and performance in slippery and challenging conditions, upgrade to the 4WD front axle with limited slip, front differential lock.EXCELLENT VISIBILITY
316 degrees of visibility ensure you see clearly during all operations.
THREE HEAVY-DUTY MODELS
WORKMASTER models at 53, 60 and 70 horsepower serve as ideal mid-size tractors for municipalities, landscapers, grounds crews, farmers and ag lifestylers.
LIKE YOU, IT KNOWS THE VALUE OF A HARD-EARNED DOLLAR
New Holland salutes a generation of doers by introducing a new line of tractors with a familiar name – WORKMASTER™. Popular in the 1960s, the original WORKMASTER models were known for their dependability and value. Today, it's no different. Whether you're mowing, moving, baling or loading, new WORKMASTER tractors work hard, are easy to afford, and at the end of the day, deliver the satisfaction of a job well done.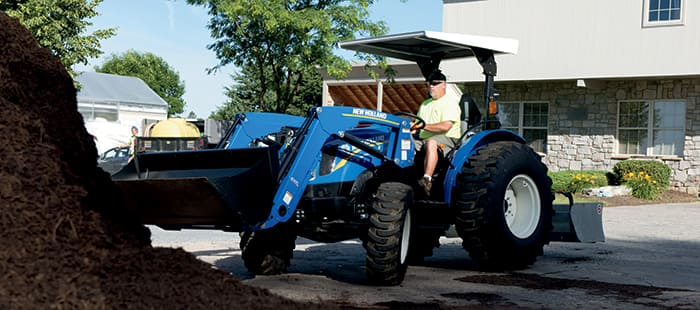 A WIDE SELECTION OF IMPLEMENTS AND ATTACHMENTS
Besides being the best utility tractor for the money, WORKMASTER tractors help you accomplish more with matching New Holland attachments and implements. Add a loader, rotary cutter, backhoe, blade and more to increase your productivity.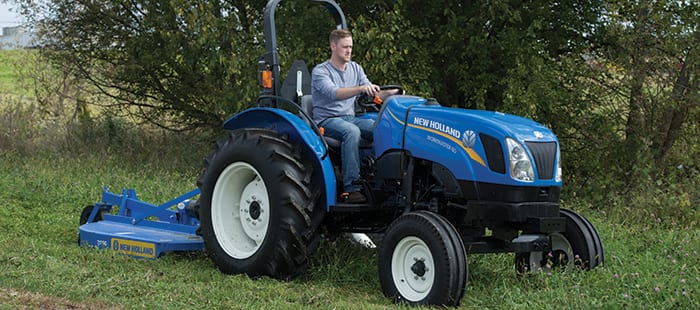 Models
WORKMASTER 50 2WD
PTO horsepower [hp (kW)]
45 (34)
Transmission
8Fx8R Synchronized Shuttle
3-point hitch lift capacity lbs. (kg.)
3,307 (1500)
Rear PTO RPM
540 RPM Standard / 540/540E Economy optional
WORKMASTER 50 4WD
PTO horsepower [hp (kW)]

9 ft., 2 in.

45 (34)
Transmission

8Fx8R Synchronized Shuttle

3-point hitch lift capacity lbs. (kg.)
3,307 (1500)
Rear PTO RPM
540 RPM Standard / 540/540E Economy optional