Features
THE BENCHMARK FOR GRAPE HARVEST QUALITY
Braud grape harvesters are known for their grape picking efficiency, gentle handling and respect for the vine stock, fruit integrity and low losses.
MORE POWER AND EFFICIENCY
Four models from 164 to 182 horsepower feature new Tier 4B HI-eSCR 4- and 6 cylinder NEF engines deliver more power and torque with best in class fuel efficiency.
BEST-IN-CLASS COMFORT AND SAFETY
You get the quietest, most comfortable cab on the market with the Braud 9000 Series. For deluxe features and Level 4 filtration, choose the Blue Cab 4 system.
THE MOST AWARD-WINNING BRAND IN HISTORY
When you buy a Braud harvester, it's backed by more than 40 years of harvesting excellence, with more than 15,000 harvesters sold in more than 40 countries.
HIGH-QUALITY GRAPES FOR HIGH-QUALITY WINE
With industry-exclusive features such as the Noria collection system, and the SDC shaking system, Braud 9000 Series grape harvesters preserve the quality of your grapes for top-quality wines. These high-capacity models are designed to be gentle on the vines, provide better climbing capability in steep hills, and be more efficient and easy to operate.

REDUCE TIME AND LABOR COSTS
Industry-leading cleaning systems, such as Opti-Grape™ and the patented SOCMA destemmer means your operation benefits from less time cleaning at the winery and better tasting wines.

MAXIMIZE YOUR PRODUCTIVITY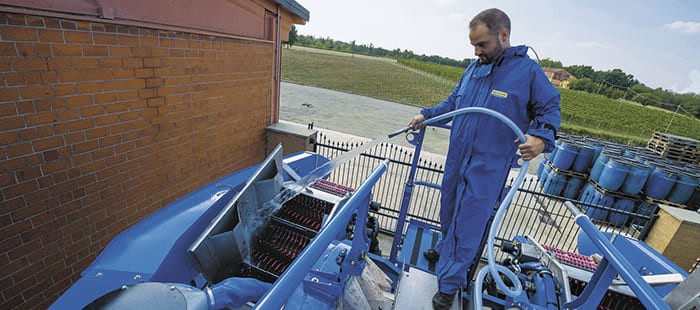 Optimizing productivity for all vine types has never been easier. It's quick to set up the Braud 9000 Series to work in different vineyards for maximum efficiency. The integrated Intelligent Management System 2.0, with IntelliView™ IV touchscreen monitor provides full access to all key harvester functions. The Automated Crop Setup (ACS) feature helps you program and store your preferred harvesting settings for easy setup to start your harvest.

LESS WASH TIME
The washing process has been reinvented. The Braud 9000 Series now features wireless remote-control convenience to provide effective washing while saving you time and money. A unique pre-washing system reduces picking head wash time with a strategically positioned water supply pipe, water nozzles positioned to key areas, and fewer debris accumulation areas.

BRAUD 9090X: GENTLE HARVESTING ON A HUGE SCALE
Designed for large corporate wineries and high-yield vineyards with long rows spaced at 8 feet or wider, the Braud 9090X delivers non-stop, high-capacity harvesting. Choose from two configurations:
• Side conveyor and optional destemmer
• Two hoppers and optional destemmer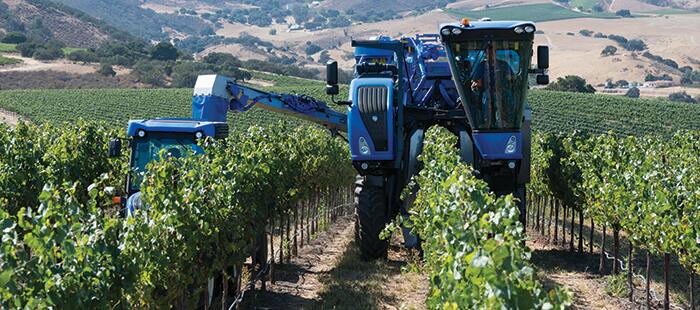 HARVEST NON-STOP WITH THE 9090X SIDE CONVEYOR

The innovative 9090X side-arm conveyor allows you to harvest and unload on the go, acre after acre. Now available with the side conveyor 9090X: the optional SOCMA patented destemmer. An advanced mesh and finger system eliminates 99.56% of harvest impurities, or MOG (material other than grapes) including rachis, stalks, leaves other debris. By removing MOG while you harvest, you not only improve your efficiency, you help eliminate the herbaceous taste that can be transferred to the grapes during transport to the winery.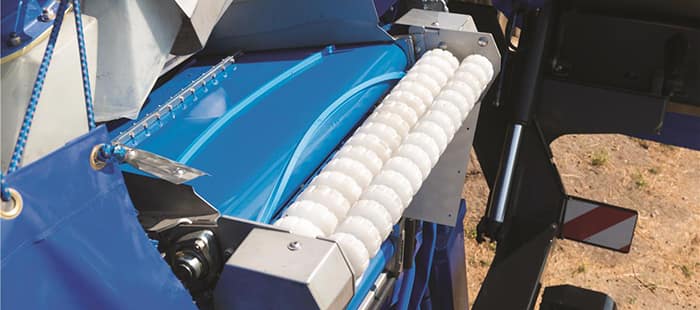 TWO-HOPPER 9090X
If you prefer, choose twin hoppers with a full 1056-gallon (4,000L) capacity. The 10.5-foot tilting height provides plenty of clearance to unload into gondolas of varying heights. Plus, you can unload the hoppers simultaneously to reduce downtime. This model features a pre-sorting system for even better cleaning capacity. Two rollers positioned at the end of the receiving conveyors direct single berries that don't need destemming directly onto the cross conveyor to increase air flow. For the two-hopper 9090X model, the optional destemmer is fitted on the top of each hopper and does not compromise hopper capacity for optimum productivity. model.

Models
Braud 9070M
Vineyard type
Intermediate >4.26 ft (>1.3m)
Engine

9 ft., 2 in.

4-cylinder
Horsepower
164 hp (121 kW) (CV)

Hoppers

623/819 gal (2360/3100 L)
Braud 9070L
Vineyard type
Large >5.24 ft (>1.6m)
Engine

9 ft., 2 in.

4-cylinder
Horsepower
164 hp (121 kW) (CV)

Hoppers
Braud 9090L
Vineyard type
Large >5.24 ft (>1.6m)
Engine

9 ft., 2 in.

6-cylinder
Horsepower
182 hp (134 kW) (CV)

Hoppers

977/1,056 gal (3700/4000 L)
Braud 9090X - Side Conveyor
Vineyard type
>7.2 ft (>2.2m)
Engine

9 ft., 2 in.

6-cylinder
Horsepower
182 hp (134 kW) (CV)

Hoppers

528 gal (2000 L) + Side Conveyor