Boomer 35-55 HP Series
The Ultimate Power Tool
Features
Natural, Comfortable Operation
Whether You Choose An Open Platform Or The Boomer™ Cab, Your Comfort Is Built In To The Design.
Unmatched Visibility
The Distinctive Boomer™ Sloped Hood Gives An Unobstructed View.
Boomer Guard6
You Get The Peace Of Mind Of New Holland's Free Boomer Guard6 Limited Warranty That Includes 2 Years Of "bumper-to-bumper" Coverage Plus An Extra 4 Years Of Powertrain Protection.
Clean Power
Quiet, Clean-running Engines Save Fuel And Reduce Your Carbon Footprint.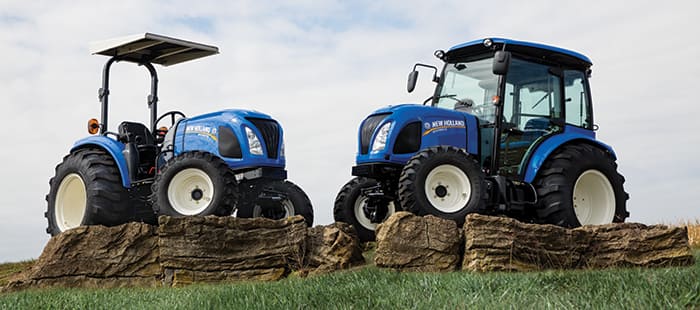 Compact Tractors Designed Around You
If you have a large property and a wide variety of chores, step up to a deluxe Boomer™ Compact Tractor. Regardless of the horsepower, transmission, or operator package you choose, you'll find Boomer tractors are free from clutter and are easy to operate. Their exceptional power, maneuverability and simple maintenance make them ideal for homeowners, landscapers and part-time farmers alike.
Handle A Multitude Of Jobs
New Holland Offers Dozens Of Attachments And Accessories So You Can Use Your Boomer Tractor To Handle A Variety Of Jobs. You Can Mow The Lawn, Handle Yard Chores, Till The Garden, Clean Stalls, Plow Snow, Or Move Dirt Or Bales.
Models
Boomer 35 (T4B)
Engine Power, hp (kW)
35 (26)
Transmission


9 ft., 2 in.

3-Range HST or 12x12 SSS
Axle
4WD

Three-Point Lift Capacity @ ball ends, lbs

1,808
Boomer 40 (T4B)
Engine Power, hp (kW)
40 (29.8)
Transmission


9 ft., 2 in.

3-Range HST or 12x12 SSS
Axle
4WD

Three-Point Lift Capacity @ ball ends, lbs

1,808
Boomer 40 Cab (T4B)
Engine Power, hp (kW)
40 (29.2)
Transmission


9 ft., 2 in.

3-Range HST or 12x12 SSS
Axle
4WD

Three-Point Lift Capacity @ ball ends, lbs

1,808
Boomer 45 (T4B)
Engine Power, hp (kW)
47.5 (35.4)
Transmission


9 ft., 2 in.

3-Range HST or 16x16 SSS

Axle
4WD

Three-Point Lift Capacity @ ball ends, lbs

2,756
Boomer 45 Cab (T4B)
Engine Power, hp (kW)
45 (33.6)
Transmission


9 ft., 2 in.

3-Range HST or 16x16 SSS
Axle
4WD

Three-Point Lift Capacity @ ball ends, lbs

2,756
Boomer 50 (T4B)
Engine Power, hp (kW)
50 (37.3)
Transmission


9 ft., 2 in.

3-Range HST or 16x16 SSS
Axle
4WD

Three-Point Lift Capacity @ ball ends, lbs

2,756
Boomer 50 Cab (T4B)
Engine Power, hp (kW)
50 (37.3)
Transmission


9 ft., 2 in.

3-Range HST or 16x16 SSS
Axle
4WD

Three-Point Lift Capacity @ ball ends, lbs

2,756

Boomer 55 (T4B)
Engine Power, hp (kW)
55 (41)
Transmission
3-Range HST or 16x16 SSS
Axle
4WD

Three-Point Lift Capacity @ ball ends, lbs

2,756