Air Disk Drills
Precise Seeding In The Toughest Conditions
Features
ACCURATE SEED PLACEMENT
Patented parallel-link opener design delivers industry-leading seed placement accuracy at higher speeds over rough terrain, resulting in best-in-class seed emergence.
MORE ACRES PER DAY
P2000 Series air disk drills are designed to operate at higher ground speeds of 7 to 8 miles per hour to cover more acres per day.
DOUBLE SHOOT CAPABILITY
The P2082 Widths from 30 to 60 feet with 10-inch row spacing.
DURABLE CONSTRUCTION
Tough Earth Metal® 18-inch disk blades, strong row-unit components and heavy-duty packers provide unrivaled durability.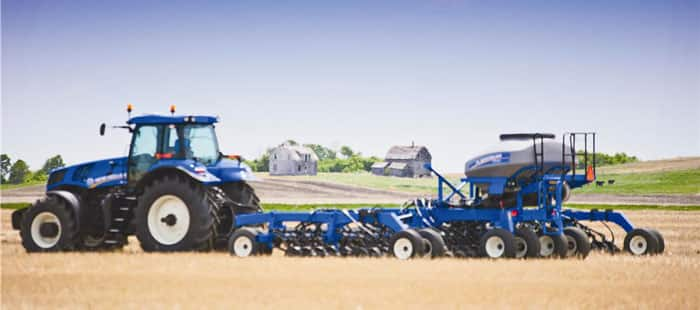 Precision, Durability And Accuracy Means Increased Productivity
New Holland P2080 and P2085 Disc Drills offer precise, uniform seed placement, increased durability over competition lower maintenance and low soil disturbance with excellent trash penetration. The P2000 models include the new P2080 Disc Drill, and P2085 Disc Drill which features a mounted seed tank. Both of these models offer incredible seed placement accuracy, leading to higher productivity.
Models
| | |
| --- | --- |
| | P2080 - 30 ft |
| Toolbar Width, ft (m) | 30 (9.1) |
| Available Spacing, in (cm) | 7.5 (19.1) & 10 (25.4) |
| Fold Type | Single |
| | |
| --- | --- |
| | P2080 - 40 ft |
| Toolbar Width, ft (m) | 40 (12.2) |
| Available Spacing, in (cm) | 7.5 (19.1) & 10 (25.4) |
| Fold Type | Single |
| | |
| --- | --- |
| | P2080 - 50 ft |
| Toolbar Width, ft (m) | 50 (15.2) |
| Available Spacing, in (cm) | 7.5 (19.1) & 10 (25.4) |
| Fold Type | Double |
| | |
| --- | --- |
| | P2080 - 60 ft |
| Toolbar Width, ft (m) | 60 (18.3) |
| Available Spacing, in (cm) | 7.5 (19.1) & 10 (25.4) |
| Fold Type | Double |
| | P2085 - 30 ft |
| Toolbar Width, ft (m) | 30 ft. (9.1) |
| Available Spacing, in (cm) | 7.5 (19.1) & 10 (25.4) |
| Fold Type | Single |
| | P2085 - 40 ft |
| Toolbar Width, ft (m) | 40 ft. (12.2) |
| Available Spacing, in (cm) | 7.5 (19.1) & 10 (25.4) |
| Fold Type | Single |
| | P2082 – 30 ft |
| Toolbar Width, ft (m) | 30 (9.1) |
| Available Spacing, in (cm) | 10 (25.4) |
| Fold Type | Single |
| | P2082 – 40 ft |
| Toolbar Width, ft (m) | 40 (12.2.1) |
| Available Spacing, in (cm) | 10 (25.4) |
| Fold Type | Single |
| | P2082 – 50 ft |
| Toolbar Width, ft (m) | 50 (15.2) |
| Available Spacing, in (cm) | 10 (25.4) |
| Fold Type | Double |
| | P2082 – 60 ft |
| Toolbar Width, ft (m) | 60 (18.3) |
| Available Spacing, in (cm) | 10 (25.4) |
| Fold Type | Double |