T4V Vineyard Tier 4A
With a width as narrow as 43.1 inches (depending on tire size), the T4V tractor fits in the tightest rows.
Features
TIER 4A CERTIFIED
You get clean power from engines that are Tier 4A emissions certified, and range from 65 to 93 PTO horsepower.
NEW BLUE CAB™ 4
T4V tractors are now available with Level 4 protection from dust, aerosols and vapors.
FROM THE WORLD LEADER
New Holland is the world's leading supplier of narrow tractors so you know you are getting the advantages of the very best.
NARROW TO THE EXTREME
Introducing the new face of narrow tractors—NEW T4V Series narrow tractors. They provide you with a sleek new look, enhanced ergonomics, advanced driver safety and powerful new hydraulic options, all in a streamlined package specifically designed for extremely narrow operations.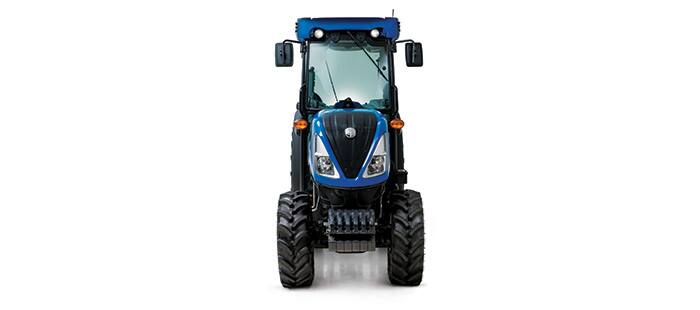 Models
T4.80V
Engine
74 gross engine hp / 65 PTO hp
Minimum overall width
43.1 in (1094 mm) (varies by tire size)
Minimum height
To Cab 94.5 in (2400 mm)
To ROPS 91.9 in (2336 mm)
Operator Station
Cab or Rollbar
T4.90V
Engine
84 gross engine hp / 75 PTO hp
Minimum overall width
43.1 in (1094 mm) (varies by tire size)
Minimum height
To Cab 94.5 in (2400 mm)
To ROPS 91.9 in (2336 mm)
Operator Station
Cab or Rollbar
T4.100V
Engine
98 gross engine hp / 86 PTO hp
Minimum overall width
43.1 in (1094 mm) (varies by tire size)
Minimum height
To Cab 94.5 in (2400 mm)
To ROPS 91.9 in (2336 mm)
Operator Station
Cab or Rollbar
T4.110V
Engine
106 gross engine hp / 93 PTO hp
Minimum overall width
43.1 in (1094 mm) (varies by tire size)
Minimum height
To Cab 96.5 in (2400 mm)
To ROPS 89.6 in (2336 mm)
Operator Station
Cab or Rollbar