SPEEDROWER® SP WINDROWERS TIER 3
NOW THERE'S EVEN MORE SPEED IN SPEEDROWER®
Features
SPEEDROWER® SP WINDROWERS TIER 3
Speedrower Series models equipped with Tier 3 emissions compliant engines are only available in Canada.
Now There's Even More Speed In Speedrower®
New Speedrower® Sp Windrowers Allow You To Get The Job Done Quicker Than Ever Before, While Giving You The Industry-leading Power, Control, Comfort And Performance You've Come To Expect From New Holland. Industry-leading New Features Speed The Speedrower Models Past Other SP Windrowers On The Market.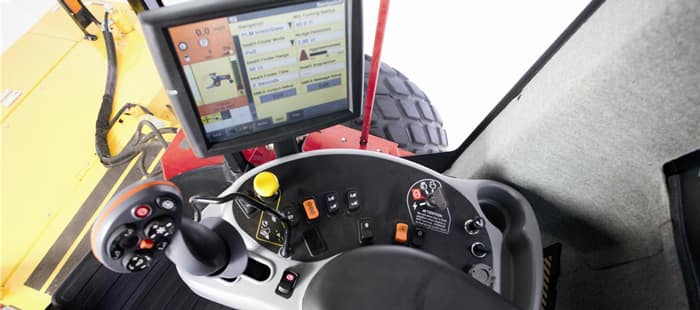 24-MPH, High-speeed, Forward-looking Transport
A New High-speed Transport Option Provides Road Speeds Up To 24 Mph*—the Fastest In The Industry—so You Can Enhance Your Productivity And Efficiency By Spending Less Time On The Road And More Time Cutting Crop. This Factory Option Not Only Saves You Time And Labor, It Saves You In Fuel As Well. Another Plus: There's No Need To Change To "transport Mode," Swivel Your Seat, Or Navigate The Road Looking Over A Large Engine Hood As Some Other Windrowers Require.
Improved Steering Control
The New Hydraulically Controlled Steering System Eliminates Mechanical Steering Linkages, Including Six Rods And Pivot Points, For Simpler, More Precise Steering.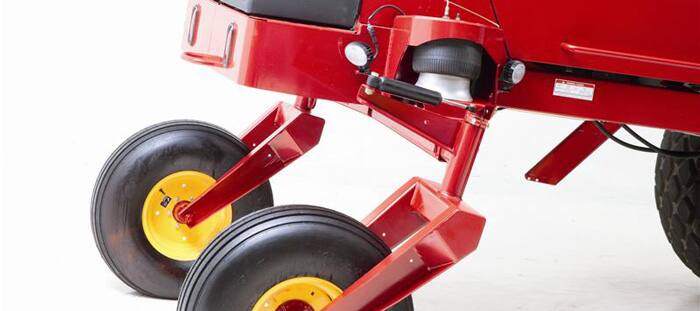 The Most Responsive Handling Ever
Straight-line Tracking Is A New Holland Exclusive. New Holland Partnered With Pratt And Miller Engineering, World Renowned In Professional Motorsports, To Optimize The Design And Performance Of New Holland Windrower Steering Components. The Solution Optimized The Windrower's Stability At Higher Speeds As Well As Its Braking Ability. New Anti-shimmy Shock Absorbers On The Rear Caster Wheel Wheels Of Windrowers Equipped With The High-speed Transport Option Provide Improved Steering Control. Swivel Post Casters Are Positioned At Nine Degrees For Faster Response When Changing Direction Or Turning Quickly. Combine These New Features With New Holland's Best-in-class Rear Axle Suspension And Comfort Ride™ Cab, You Get The Smoothest, Most Responsive Windrower Handling Ever.
Increased Ground Clearance
You'll Easily Clear Large And Fluffy Windrows With 42.5 Inches Of Ground Clearance From Head To The Rear Of The Machine. That's More Than 6.5 Inches Of Additional Clearance When Compared To The Previous H8000 Series Windrowers.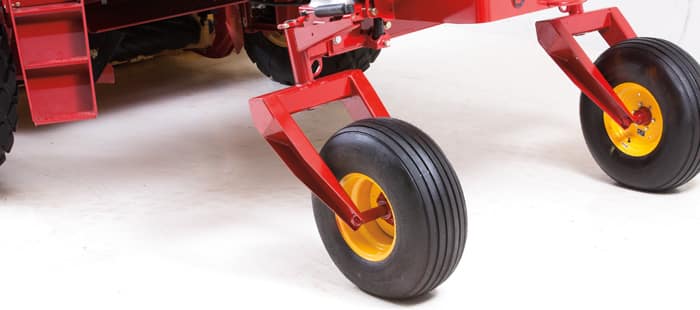 Real Support For Real Terrain
You Get A Choice Of Tires With Rugged Support Arms To Match Your Needs. New Larger 16.5l Tires Provide A Smoother Ride Over Rough Ground And Feature A New Single Cast Support Arm Design For More Clearance For Mud, Debris And Tall Fluffy Windrows Or Swaths. Crop Will Not Wrap Around The Single Cast Arm, As Often Happens With Fork Supports With Large Tires. Standard 14.0l Tires Are Suitable For Most Hay Operations And Feature A New Heavier-design Tailfork, Rear Axle Spindles And Hubs For Increased Structural Integrity.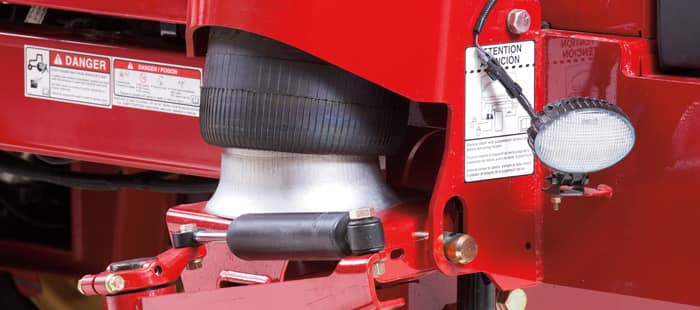 Independent Rear Axle Suspension
This Patented Feature Is Now Standard Equipment On The Speedrower® 200 And Speedrower® 240, And Optional On The Speedrower® 130. It Provides An Exceptional Ride And Allows You To Improve Your Speed And Efficiency On Uneven Terrain.
Power Down Lift Arm Function
Now, You Can Remove And Attach Headers More Easily By Hydraulically Lowering The Header Lift Arms To Remove The Header Without The Need To Handle Manually. The Power Down Option Allows A Single Person To Change Heads Easily On The Fly And Speed To The Next Field.
Models
SPEEDROWER® 130

Engine
NH 4-cylinder, 126 hp
Disc Headers (ft)
NA
Sickle Headers (ft)
12, 14, 16 & 18
Draper Headers (ft)
25, 30 & 36
| | |
| --- | --- |
| | SPEEDROWER® 200 |
| Engine | NH 6-cylinder, 190 hp |
| Disc Headers (ft) | 16' |
| Sickle Headers (ft) | 16 & 18 |
| Draper Headers (ft) | 25, 30, 36 & 40 |
SPEEDROWER® 240
Engine
NH 6-cylinder, 226 hp
Disc Headers (ft)
16'1" & 19'4"
Sickle Headers (ft)
16 & 18
Draper Headers (ft)
25, 30, 36 & 40